Alumni are invited to share their Bobcat journey for a commemorative book that will preserve the rich history of our beloved alma mater, as told by those who have lived it. Don't miss this opportunity to tell your story, capture memories of favorite professors or celebrate classmates.
The Office of Alumni Relations has collaborated with Publishing Concepts, Inc. (PCI), to create an oral history of UC Merced that will record our shared connections. With more than 14,000 alumni and so many inspiring professors through the years, what better way to recognize our impact as a community than to share our personal narratives?
The collection of stories will be available for purchase from PCI. While there is a fee to purchase the printed book/merchandise (UCMAA does not make any proceeds from this project), you do not need to purchase the book to contribute your Oral History. UC Merced will obtain digital copies of your stories to help highlight Bobcats.
What's New With You?
As part of the project, alumni will be able to provide updated information to help re-connect you with UC Merced! PCI will help us collect updated information from those of you who have moved, changed careers, or earned new degrees so we can stay in touch wherever you go.
 
Your Bobcat Journey:
What will your UC Merced story say about you?
Is there a faculty or staff member who had a profound impact on your life?
Did you meet your Bobcat sweetheart at UC Merced?
Is there a defining moment at UC Merced that helped shape your future?
Have connections you made on campus turned to lifelong friendships?
Were you a member of the pioneering Bobcats?
 
PCI Partnership
As a mighty team of three, we're always looking to maximize the impact and reach we have on our alumni. Through this collaboration with Publishing Concepts, Inc. (PCI), we're able to amplify our reach and reconnect with our growing of more than 14,000 alumni! Leveraging their services, PCI's trained staff will help us collect and assemble your unique stories through a commerorative book that will be available to purchase. We recognize that your digital security is important and assure you that only your contact information has been shared, and will only be used during the time of October 2021 - November 2022.
 
Will I Have to Purchase a Bundle?
No. This project is being done at NO COST to the UCMAA. The project is completely funded by the alumni who choose to purchase the commerative book that will be produced at the end of the project. Various book packages will be offered. PCI will also offer you the option to purchase other exclusive UCMAA branded merchandise such as a blanket and pullover, and provide an optional donation that will be used to support UC Merced student and alumni initiatives. 
You are welcome to purchase these items, but you are not required to do so to participate in the project or order the commemorative book. Again, we'd never be able to embark on a project like this without the support of our amazing alumni and the partnership with PCI. We sincerely thank every person that participates and chooses to purchase the book and hope you enjoy learning about the stories of your fellow Bobcats!
 
What's Next?
Over the course of several months, you will receive email and postcard communications from the PCI team with instructions on how to participate. We'd like to invite you to share one of your stories with us and take part in this first of its kind project to honor the experiences and voices of our alumni. The PCI team will collect stories until April 2022. After that, they will enter a post-production phase editing the data. We hope to have the book distributed in November/December 2022.
We look forward to hearing from each and every one of you as #ProudBobcats and alumni of UC Merced!
 
What to Look For:
Below is an example of a postcard you will receive in the mail. This is an official postcard from UCMAA, distributed by our partner PCI. Once you receive the postcard, please follow the instructions to update your information and set up an interview time to share your Bobcat Journey!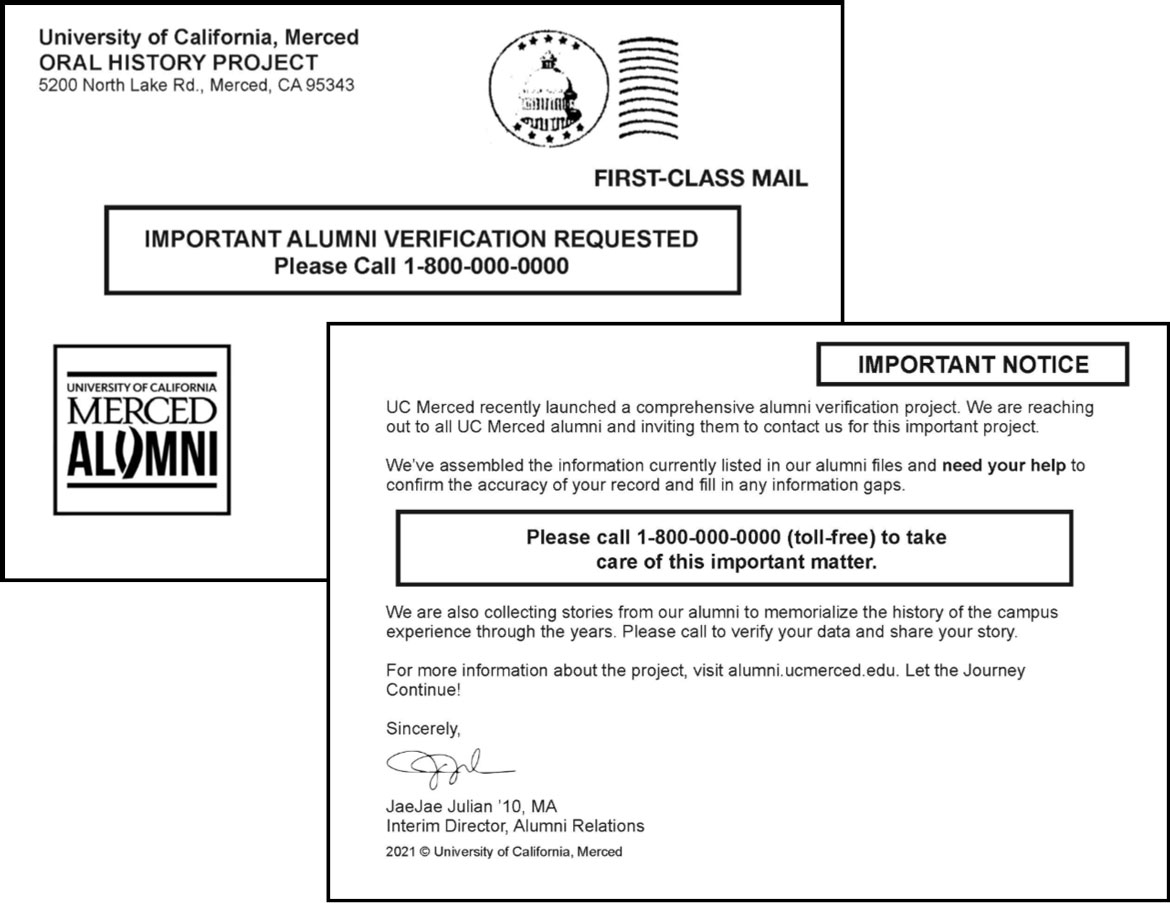 Below is an example of an email you will receive in your inbox. Once you receive the email, please follow the instructions to update your information and set up an interview time to share your story. If you do not receive it, please take this opportunity to call PCI at 1-855-887-3728 to update your contact information so we can stay connected.