Celebrating the Legacy...
One of UC Merced's earliest traditions dates back to 2005 when the campus welcomed its first set of incoming Bobcats. Dressed in white UC Merced polo shirts that read, "Launching the Future", each of the students crossed Scholars Bridge signifying the beginning of their academic journey. Throughout the years the tradition has evolved and the fanfare has grown to now include CATSPOTS, Rufus, Taiko, Drones and more.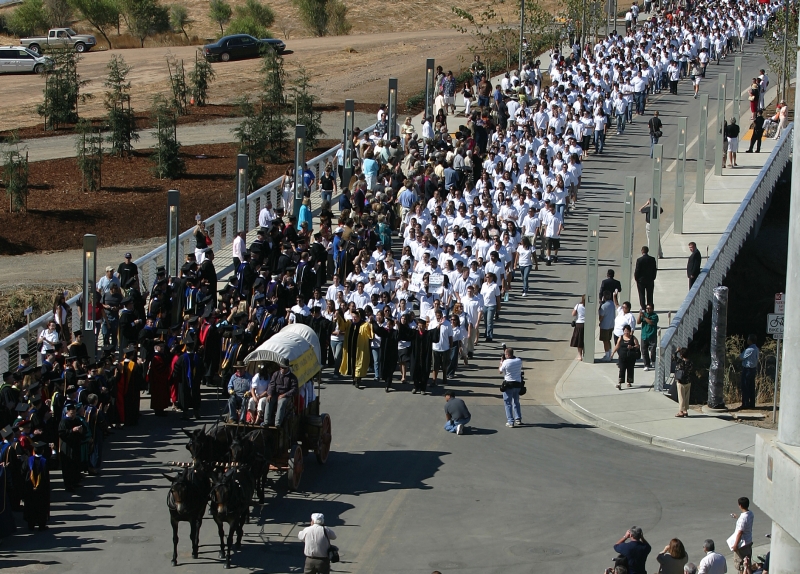 At the start of the fall semester, the Student Alumni Association helps welcome all incoming students consisting of first year and transfer students, by presenting them with a "Journey Shirt." With "Let the Journey Begin..." emblazoned across the chest, students can be seen wearing their Bobcat pride throughout their years at UC Merced. The thousands of matching shirts build a sense of community, and helps tell the story of how the local community and campus support one another. Small local business sponsor's logos can be found on the back of the shirts as a representation of the support between UC Merced and the Merced community.
This year, UC Merced will celebrate the journey of the newest undergraduate students from the classes of 2020 and 2021, consisting of first year, second year, and transfer students. Participating for the first time, Chancellor Juan Sánchez Muñoz will lead students up Scholars Lane, across Scholars Bridge, and through the Beginnings Sculpture located in the Carol Tomlinson-Keasey Quad. Upon graduation, students are led in their cap and gown back through the sculpture signifying their transition from student to alumni.
In only its 16th academic year, the Scholars Bridge Crossing is just one of the many UC Merced traditions passed along from class to class by students and alumni alike. The UC Merced Alumni Association welcomes all Bobcats and believes that every student is a "proud alum from day one." Traditions such as these help educate students and instill that the Journey as a Bobcat goes well beyond your years on campus. We look forward to celbrating this year's classes with our community partners! Let The Journey Continue!
---
Thank you to this year's sponsors!
As part of the tradition, students received complimentary "Let the Journey Begin..." t-shirts sponsored in part by our generous community partners...
PREMIER SPONSOR