Alumni Highlight: Taylor Woolfork '11
You are here
Home
› Alumni Highlight: Taylor Woolfork '11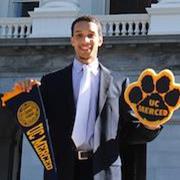 Major: Political Science
Current residence: Sacramento
A Sacramento native, Taylor Woolfork (Political Science/BA/2011) knew early that he wanted to pursue a career in politics.
"I always wanted a career in politics starting in high school," Woolfork said. "I had an increased interest in current events and the huge role President G.W. Bush played in those events."
When he enrolled at UC Merced, Woolfork threw himself into his classes and was especially affected by Professor Thomas Hansford.
"The small class sizes gave me the accessibility to and accountability with my professors," Woolfork said. "I really needed that in college to keep me on track."
As a student, he participated in the UC Sacramento program for one semester. He also interned with a lobbying firm to help gain exposure in the field. Through his internship, Woolfork had many responsibilities from bill tracking to attending committee hearings to tracking votes and writing memos to clients.
Now that he works as a legislative aide in Sen. Cathleen Galgiani's office, Woolfork has been able to experience both sides of the political engine.
"When you work in lobbying, you want to make sure your clients are taken care of," Woolfork said. "When you work for the state, you want to make sure everyone is taken care of."
If fellow alumni or students are interested in building their careers in politics, Woolfork encourages them to get involved now.
"There will be several very interesting campaigns in 2014," he said. "There's a state Senate seat up in Merced and another in Fresno. Both are physically close enough to get involved and build your political network, regardless of where you fall on the spectrum."
The most important skills Woolfork encourages in politics are teamwork and knowing the issues.
"There's nothing you can do by yourself," he said. "Make sure you follow current events, read the news and keep abreast of issues. There's constantly something changing."
Even though Woolfork plans to start graduate school this fall while continuing to work full time in Sacramento, he also continues his involvement with the UC Merced Alumni Association's Sacramento chapter. Woolfork sees a real need to ensure UC Merced is represented in the Sacramento area as alumni like him work to build the university's reputation across the state.