Alumni Highlight: Gyami Shrestha '11
You are here
Home
› Alumni Highlight: Gyami Shrestha '11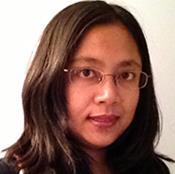 Major: Environmental Systems
Current residence: Alexandria, VA
For the past few years, UC Merced has participated in a UC-wide advocacy day in Washington, D.C., called UC Day in D.C. Developed because of the success of our UC-wide state advocacy program in Sacramento known simply as UC Day, UC Day in D.C. allows people from our campus to meet with federal representatives to advocate for federal research funding.
At the UC Day in D.C. regarding graduate research and education, UC Merced Director of Federal Governmental Relations Lacey Kiriakou headed the delegation and was accompanied by alumna delegate Gyami Shrestha (Environmental Systems/Ph.D./2011); student delegate Gary Abel, a chemistry graduate student; and electrical engineering and computer science Professor Shawn Newsam. The small delegation represented multiple perspectives on the importance of federal graduate student research funding.
While a graduate student at UC Merced, Shrestha researched black carbon particles in soil produced by forest fires in Yosemite National Park. Her research was indirectly funded by the federal government. She was also on the Graduate Student Association and served on the Chancellor's Search Committee that appointed Chancellor Steve Kang in 2007.
"I was very fortunate to go to UC Merced," Shrestha said. "I had a great advisor, Sam Traina, who was also a great mentor. Professors and staff were inspiring beyond working in the lab."
Shrestha was also very appreciative of being selected as an alumni advocate.
"It was a great opportunity to showcase and highlight the university and the people who are doing wonderful things because of our university all across the world."
Advocacy is something in which all of our alumni can participate. Simply sign up for our UC Merced advocacy alerts, and we'll let you know when we could really use your help.
For any alumni who get invited to be official alumni delegates at future UC Days, Shrestha has one piece of advice.
"Don't be shy! We're from the smallest and newest UC and that makes us more prominent. It's something people remember, and they are honestly interested in what we're up to."