Alumni Highlight: Angela Mercado '09
You are here
Home
› Alumni Highlight: Angela Mercado '09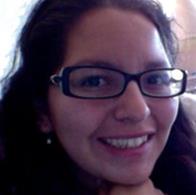 Major: Psychology
Location: Los Angeles
Occupation: Preschool assistant teacher
Alumna Angela Mercado completed two terms in the AmeriCorps in the greater Los Angeles area soon after graduating from UC Merced in 2009. Currently, she is a preschool assistant teacher. She enjoys her work because she is able to find ways to teach children through play.
"When I set up a dramatic play area, I want to ensure children are learning about math when they cut into a pizza or how a stethoscope works when they play the role of doctors," Mercado said.
How are you using your degree in your field?
I am using my bachelor's in psychology to understand the way children develop their social, cognitive and behavioral skills in a classroom setting. Understanding their developmental stages allows me to create an environment that allows children to learn in a safe and engaging classroom.
Which of your courses from UC Merced has proven most valuable to your career and life?
The writing courses have been the most valuable to my career and life because I used the skills I learned from the writing professors to tutor in underprivileged schools in the Los Angeles area.
Were you involved in any clubs or organizations?
I was most involved in the Ambassadors Club for my four years at UC Merced.
What workshop or event (hosted by UC Merced or the community) gave you the most valuable knowledge that you didn't receive from the classroom?
The career services workshops were the most valuable because they gave me knowledge about how to construct my resume. The staff members also gave me advice on future career paths that would help me decide that I wanted to go into teaching.
Please share your experience during your transition between being a UC Merced student to being a UC Merced alumna: My transition from being a student to an alumna was bittersweet. I realized this when I began receiving phone calls and emails about alumni updates and events. It was a great moment when I saw my contribution to the outdoor amphitheater as a class gift.
What is your proudest accomplishment since graduating?
Since graduating from UC Merced, my proudest accomplishment has been completing two terms of AmeriCorps service. I was an AmeriCorps tutor for a middle school in the Pico/Union District of Los Angeles. I also participated in community service projects, including creating a reading garden for a local school. I completed one full year term, which consisted of approximately 1,900 hours of service and a reduced half term, which consisted of approximately 800 hours of service.
What made you want to complete a second term?
I enjoyed working with the students and wanted to keep working with them in order to really make a difference in their lives. I still keep in contact with the first class of students who are now becoming juniors in high school this coming semester.
Who or what inspired you to serve in AmeriCorps?
I was inspired to serve in AmeriCorps through a fellow UC Merced alum, Joycelyn Stephens (Psychology/BA/2009). I had asked her about the program and she said it was a very rewarding experience. I knew I wanted to do something that would give back to the community.
What memory sticks out the most to you from your experience?
My favorite experience would be attending the annual Family Summit with the students. I was able to get to know the students outside the classroom and create a different bond. The bond we created made it easier to tutor and mentor the students.
Advise for post-graduation?
The advice I would give to post-graduates is that no matter how hard it is to get a job, do not get discouraged. I thought I would be without a job for months but found a great job two weeks after I started applying.
Why did you choose UC Merced?
I chose UC Merced because I wanted to take a chance and become a pioneer. I was happy when I arrived at UC Merced because I was able to be the first to use the new resident housing. I was also able to participate in classes where I was able to get to know the professors and create relationships with them that lasted through my senior year.