Alumni Highlight: Jolie McLane '10
You are here
Home
› Alumni Highlight: Jolie McLane '10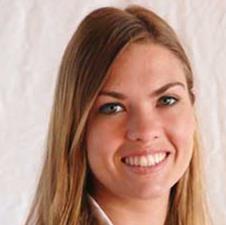 Major: Bioengineering
Current residence: Newport Beach
Graduate school program: Biomedical engineering at UC Riverside
If there was one thing Jolie McLane (Bioengineering/BS/2010) learned from UC Merced, it was that it taught her to be a leader and also encouraged her to pursue higher education, which she is doing by attending UC Riverside as a Ph.D. candidate in biomedical engineering.
As an undergraduate student at UC Merced, McLane started up the Bobcat Dance Team, which is still thriving. She was also a member of the Society of Hispanic Professional Engineers (SHPE). Along with being in clubs and organizations, McLane spearheaded several projects while conducting research in the labs on campus. It gave her the opportunity to work independently and with supervision/guidance to get projects done efficiently and on time.
One of McLane's proudest UC Merced moments was graduation day. She had done it – graduating at the top of her class of bioengineering students. But she wasn't done yet.
Several of her faculty mentors encouraged her to continue her education and go to graduate school, and that's exactly what she's done. It is because of that level of support and community she felt at UC Merced that McLane continues to give back to campus and keep in touch with how we grow and develop.
Today McLane spends a lot of her time in a graduate lab conducting research. A typical day for her is to meet with her professor for updates, conduct demos for interested companies, write up her work to have it published and conduct work independently. She most enjoys working independently and being her own leader. Her dream job consists of making a lot of money, independence, working her own hours, flexibility and the chance to plan her own experiments.
We have total confidence that she will achieve her goal.
Words of wisdom: Be a leader. Get in the lab, do research and create opportunities.