Alumni Highlight: Jorge Marquez '12
You are here
Home
› Alumni Highlight: Jorge Marquez '12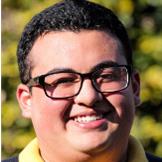 Major: Management
Current residence: Fresno
Current Occupation: Attending the MBA program at Fresno State's Craig School of Business
Being close to home but having your own independence is usually every college student's dream! That happened to be the case for alumnus Jorge Marquez (Management/BS/2012). If he was ever homesick, he was only an hour away from home, but he also had his own independence to let himself grow.
One of Marquez's most memorable moments at UC Merced was participating in the PAA Gauntlet with the Business Society, where he served as the chief financial officer for two years. He liked seeing how all the clubs and organizations from all around campus came together on one day to compete against each other. He also liked that if a team lost, all of the other clubs would go around cheering them on to bring up their excitement levels and show their school spirit. It didn't hurt that the Business Society placed third in the 2012 PAA Gauntlet.
Today, Marquez attends Fresno State's Craig School of Business to get his master's in business administration. He said his UC Merced professors made the transition easy for him. He has already completed case studies and research in his first year.
Along with attending graduate school, Marquez co-founded a technology startup in Merced and serves as the project manager for the group. Now that it has launched its first app, he's hoping what is currently a volunteer position will pay out into something more.
Regardless, continues to move forward in establishing his career and continues to stay close to home – not too far from campus.
Words of wisdom: Take risks and don't be afraid of them. Down the line, no one will remember if you messed up, but you won't know unless you try stepping outside of your comfort zone.