Alumni Highlight: Mark Lazzaro '13
You are here
Home
› Alumni Highlight: Mark Lazzaro '13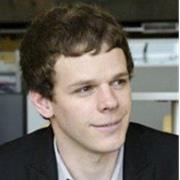 Major: Mechanical Engineering
Current residence: Merced
Current occupation: Process engineer for Scholle Packaging
Graduating college and jumping right into a full-time position with a respected corporation is a dream for any student. UC Merced alumnus Mark Lazzaro (Mechanical Engineer/BS/2013) the dream is a reality.
Lazzaro did not even get the chance to miss Merced because after graduating in December; by February, he had secured a full-time position as a process engineer at Scholle Packaging, located in Merced. So far, it's his most memorable accomplishments.
"Getting employed as a process engineer is my proudest moment. I have only been a UC Merced alumnus since December, and I already have secured a full-time job."
Lazzaro's success is no surprise to those who know him, especially in light of his active role in the American Society of Mechanical Engineers (ASME). During his sophomore year, Lazzaro took a leadership role in the club as treasurer, the next year he was vice president, and the years following proudly served as president.
Lazzaro is still active in the organization and has continued his commitment to ASME as a senior member. Throughout his time in ASME, he was able to increase membership from four to 15 actively involved members. Lazzaro was also president of Vanguard, which is a student organization that oversees all engineering societies. Lazzaro is involved with a national leadership development program in which he offers annual workshops on how to market proper organization skills.
In the future Lazzaro hopes to create an internship position at Scholle for UC Merced students. In fact, his good friend Allen Harrell (Management & Political Science/BS/2012) has no doubts Lazzaro will succeed.
With help from alumni like Lazzaro, UC Merced's reputation will only continue to grow and solidify our place as a leader in educating engineers for the modern world.