UCMAA Board Member James Kirby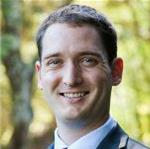 Degree: Political Science/BA/2010
Occupation: Manager, United States Conference of Mayors' DollarWise Campaign
Current residence: Washington, D.C.
Board term: October 2011 to October 2017
James Kirby (Political Science/BA/2010) didn't waste much time following graduation to pursue his vision of a UCMAA Chapter in D.C.
He began reaching out to his fellow alumni in the area and set up our first East Coast alumni event that summer with special guest Lacey Kiriakou from UC Merced's Governmental and Community Relations Office. 
By the time the first call went out for UCMAA Board members, James had already established himself as an alumni leader and had no problems advocating for his involvement in his application. Through his work on the Board, he has helped to establish an official process for chapter development and recognition in addition to coordinating several events in D.C. for our growing alumni group for the alumni in the area.
But Kirby isn't done there. He hopes to continue to grow the D.C. chapter's membership, strengthen its relationship with the UCDC Center, and serve as a network for UC Merced alumni and advocate for the UC system as a whole.
"I care a lot about UC Merced and its continued development; anyway we can support that, bringing alumni together, getting our name out there, is rewarding. We hope to be a point of contact when the chancellor visits D.C., provide fundraising opportunities to support not only the chapter and the board, but also the campus," Kirby said. "We want to be successful and we're serious about this."
Kirby is also supportive of developing new chapters – specifically across the state of California. With our largest concentration of alumni in the East Bay, Merced and Los Angeles areas, there's a great potential for getting alumni together.
"Establishing alumni groups in different geographical regions, gives alums the opportunity to promote their campus on a grander scale, encouraging them to continue support of the university within their respective communities," he said. All of these areas are essential for UC Merced's growth and recognition throughout the state.
The UCMAA hosts regional alumni events in some of our largest alumni areas including Santa Monica, Sacramento, San Francisco, Fresno and Merced. Get more information about starting a chapter in your area.
Student/alumni activities: ASUCM Senate; UC Merced Lacrosse; and UCMAA D.C. Chapter Leader
Board committees: Alumni Engagement