Alumni Highlight: Liz Kang '09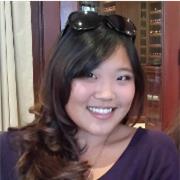 Major: Management
Current residence: Pleasanton
Board Term:October 2014 to October 2016 
Born and raised in the San Francisco Bay Area, Liz Kang (Management/BS/2009) doesn't want to live anywhere else in the world.
"I traveled a lot growing up," she said, "but I love San Francisco – the things to do and see and, of course, the weather!"
Even though Kang left the Bay Area to pursue her studies at UC Merced, she always knew she wanted to go back.
"My mom chose Merced for me," she said. "My mom knew me better than I knew myself and encouraged me to go. It was small, new and in the middle of nowhere, but it allowed me to start from scratch and figure out who I wanted to be."
Kang learned that she wanted to work in the events industry. As soon as she graduated, she took the first job she could find working for an electronics company. She knew that wasn't where she wanted to be, but she also knew she needed to start somewhere.
But the company was small, allowing Kang to explore many roles within it.
"Everyone wears a lot of hats," she said. "The environment in a small company requires you to learn faster and more because you wear so many hats."
While the work was interesting and challenging, she still knew she wanted to be in events so she got busy looking for a new opportunity to start her career.
"I mobbed every single catering company in a 50-mile radius asking them to hire me," she said, "but no one picked me up."
Frustrated after another failed attempt at a catering company, Kang wandered into the chocolate shop next door. The lady behind the counter asked if she needed help, and Kang told her everything – how she was looking for a job in events but couldn't break in.
The woman, who happened to be the owner of the chocolate shop, offered Kang a job and an opportunity to pave the way into the events industry.
"Looking back, I feel so lucky," she said. "Through that position, I went to several conferences and built my network in the industry. It's also how I got my first events- planning job working for the Lafayette Park Hotel as a sales and events representative."
Coincidentally, Kang's career path moved her from one events position to another and now she is back working at the same electronics company she started out at, now as their marketing and events coordinator.
When advising fellow alumni or students who are interested in pursuing careers in the events industry, Kang's first words of advice are "Be humble, challenge yourself and always look for more."
While Kang has been working her way around the events industry in San Francisco, she's also taken on the role of leading the UCMAA San Francisco Bay-Area Chapter.
"I learned very quickly that it takes networking and knowing people to get a job," she said. "I want our chapter to be a part of our alumni network in helping our alumni and future alumni get jobs in the Bay Area."
Kang is even bringing her network to campus by facilitating a recruiting visit with her organization and the UC Merced Center for Career and Professional Advancement.
If you're interested in recruiting UC Merced students at your place of employment, contact alumni@ucmerced.edu for more information.