UCMAA Board Member Evelyn Hoyo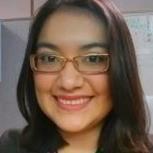 Degree: Computer Science and Engineering/BS/2012
Occupation: Flight control software engineer, Honeywell
Current residence: Phoenix
Board term: October 2012 to October 2014
Imagine having just graduated from college. You've already traveled the world, speak three languages and presented at conferences. You've had a job lined up at a Fortune 500 company since before graduation and you've just been selected for a coveted spot on the UC Merced Alumni Association (UCMAA) Board.
Sounds too good to be true right?
Not for Evelyn Hoyo (Computer Science and Engineering/BS/2012), one of the newest members to serve on the UCMAA Board.
Joining the board was "a natural step of what I feel a UC Merced student does," she said. And looking at Hoyo's track record, it was. As a student, she was very on campus with activities ranging from Greek life, Study Abroad and the School of Engineering, including founding the Theta Tau Professional Engineering Fraternity.
Now that she's been selected for the board, Hoyo hopes to help create more programs that connect the Board to current students.
"It's important that we have a connection before students graduate." Her vision is for the board to provide opportunities for students to be mentored by alumni so they can learn what's ahead, and serve as a resource by connecting students with their networks if they need help.
Hoyo is truly appreciative of the experiences she had at UC Merced.
"Everything I learned at UC Merced has helped me in one way or another," she said. "Whether it be the social and public speaking skills, math and critical thinking, or even a foreign language, the many things that UC Merced provided me with during my years there have always helped me become a better person all around and in turn be better prepared as for whatever comes my way."
These important skills will be the ones that help Hoyo succeed at her position as a flight control software engineer at Honeywell Aerospace in Phoenix. Even with the scariness of moving to a new city and state and starting her "adult life," she's been able to use the skills she learned in her computer science and engineering courses here at UC Merced every day on her job.
"I create, modify, test and analyze code in flight control on airplanes, which are the same skills I learned while earning my degree," she said.
Even though she's no longer in California and close to Merced, Hoyo will continue to stay connected to her alma mater.
"Once graduated, it's very easy to lose connection with our readjustments of new homes and work," she said. "But keeping up with what's going on on our campus and keeping in touch with the people who have yet to graduate is important."
Student activities: Delta Delta Delta Fraternity for Women; Society of Women Engineers; Theta Tau Professional Engineering Fraternity; Vanguard
Board committees: Alumni Engagement