Alumni Highlight: Heather Heck '09 and '11
You are here
Home
› Alumni Highlight: Heather Heck '09 and '11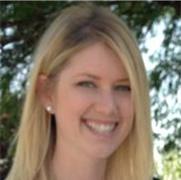 Major: Biological Sciences and Quantitative Systems Biology
Current residence: Upland
Graduate School program: Physicians' assistant program at Western University of Health Sciences
Heather Heck (Biological Sciences/BS/2009, Quantitative Systems Biology/MS/2011) wore many hats during her time at UC Merced. Although she came in as an undergraduate student, she stayed on to become a graduate student and then continued to work for UC Merced as a lecturer in physics and molecular cell biology.
During those three roles, she also co-founded the Delta Gamma sorority on campus, founded the Lady Bobcat Softball team, tutored fellow students and was a part of the Trails of Happy Tails. She also conducted research in molecular cardiac electrophysiology in which she studied the mechanism behind Catecholaminergic Polymorphic Ventricular Tachycardia (CPVT), a type of sudden cardiac death.
Throughout the years and experience, UC Merced became a part of Heck's family, and she can't believe how much it grew.
But Heck moved on to the physicians' assistant program at Western University of Health Sciences. She's still missed on campus, but hopes to continue to set an example for students to learn and achieve their dreams.
Once a Bobcat, always a Bobcat.
Advice for current students: Get to know faculty members. They are really diverse and always willing to help a student achieve success.