Alumni Highlight: Drew Glaser '09
You are here
Home
› Alumni Highlight: Drew Glaser '09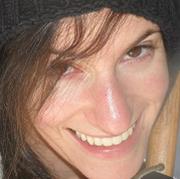 Major: Bioengineering
Current residence: Merced
Graduate school program: Bioengineering at UC Merced
Alumna Drew Glaser (Bioengineering/BS/2009) has seen a lot of change at UC Merced. Coming in with the inaugural class in the fall of 2006, there were only 1,100 students back then. Over the years, she watched the campus grow – both in physical size as more and more buildings have been added but also in student size (we have more than 6,000 now).
Upon completion of her Ph.D., Drew became one of the first alumni in UC Merced history to both begin and complete both her undergraduate and doctoral degrees on campus. And while she's a living history of UC Merced's progress, growth and expansion, she has also benefited from the strength of the UC Merced community.
Glaser has been mentored by great professors like Lilian Davilla, Valerie Leppert, Jennifer Lu, Kara McCloskey and Christopher Viney.
"I've benefited immensely from the mentor-mentee relationship with Christopher Viney. He introduced me to my boss and helped me through very, very difficult times," Glaser said.
Glaser said she has really enjoyed teaching and mentoring undergraduates one on one. She specializes in stem cells and tissue engineering through her research and hopes to become a research professor specializing in developing technology for organ transplant therapy and disease models after graduation.
In her free time when she's not teaching, studying or doing research, Glaser also enjoys running (she's completed a half marathon) and gardening at her new home. 
Words of wisdom: "Go to office hours and do not be scared to approach the professors, even if you are getting an A in the class. Office hours are a great way to make connections. You never know when you might need help. The professors have the experience to help you."