UCMAA Board Member Sam Fong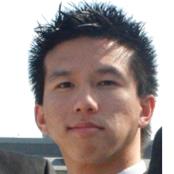 Degree: Management/BS/2009
Occupation: Manager, Venice Couture
Current residence: Fremont
Board term: October 2011 to October 2016
Sam Fong recently returned to California after being in Beijing for more than a year working as a consultant with several companies. His major in management has been very conducive to his work in providing advice, training his clients and building his professional network.
After graduating, Fong successfully expanded the Homebrew Investment Club to a group of more than 200 investors in the San Francisco Bay Area. He traveled overseas doing freelance work, which "can be daunting at times." But UC Merced laid the foundation to give him the confidence to go into a new territory, much like conquering the new territory that is UC Merced.
Today, Fong continues his entrepreneurial ambitions with the launch of a new company - Venice Couture - which allows him to utilize both his Asian and North American networks.
Advice to undergrads: My experience and attitude toward improving the school and community provided me with opportunities from those around me. You just have to go out and push yourself. Students should put themselves out there by joining clubs, getting to know staff and faculty members, as well as community members.
UC Merced's impact: My ultimate life goal is to become a successful investor and entrepreneur, and my invaluable experiences at UC Merced helped prepare me for this path. UC Merced gave me opportunities I wouldn't have dreamed of before going to college – from undergraduate research experience in solar energy to the chance of inviting First Lady Michelle Obama to speak at our inaugural commencement ceremony. In my own career, I have been able to use tools and principles from my coursework in the investment group I founded, the Homebrew Investment Club, as well as my work in Beijing.
Student activities: Business Society; ASUCM; Resident Housing Government; Collegiate Alumni Foundation; Student Fee Advisory Committee; Council on Student Fees; Student Advisory Committee for Selection of UC President; and "Dear Michelle Campaign"  
Board committees: Executive Committee vice president; Nominating Committee chair; Alumni Engagement