Alumni Highlight: Alma Fausto '12
You are here
Home
› Alumni Highlight: Alma Fausto '12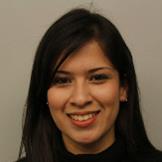 Major: Political Science
Current residence: Irvine
Current Occupation: Journalist
Going off to college in a completely new environment can be scary and intimidating to some people, but to Alma Fausto (Political Science/BA/2012), it was an opportunity to go out and establish her own identity.
One way Fausto did so was through her work with The Prodigy. One of her most memorable experiences was covering the Class of 2009 commencement when First Lady Michelle Obama was the keynote speaker. Fausto got to meet numerous reporters in the press box and even learned a thing or two from them through the experience.
It was experiences like this that led Fausto to pursue her master's in journalism at Columbia University. Four months before completing her graduate degree, she had already secured a paid internship at the Orange County Register, where alumni can see her byline on articles again.
For Fausto, journalism is a dream job. She gets to work before 9 a.m., and is likely rushing right out again for interviews before writing up stories by deadline.
Even with her busy days, Fausto stays engaged with UC Merced as an alumna because of the people she met here and the opportunity it provided her to go from Merced to New York and now to Orange County.
She appreciates what UC Merced did for her and especially looks forward to seeing how The Prodigy will grow now in the years ahead. The Prodigy is part of her UC Merced legacy and while she's looking back at her Prodigy experience, we will be looking ahead to the great work Fausto will do with her journalism career.
Check out Fausto's work at the Orange County Register online.
Words of wisdom: If you have a passion in something, there's no greater accomplishment than to be able to do it every day.