UCMAA Board Immediate Past President Udaydeep Bali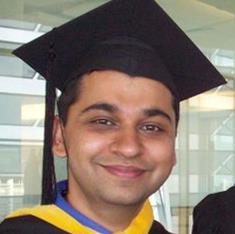 Degree: Environmental Engineering/BS/2008
Occupation: Owner, Bali Learning Center
Current residence: Merced
Board term: October 2011 to April 2016
Some of you might remember when Uday Bali was the second president in the history of ASUCM. Now as the first president in the history of the UC Merced Alumni Association (UCMAA) Board, he still has the same goal he did back then – to increase community involvement.
Bali wants to include the student body as a whole in the community. He wants UC Merced alumni to be involved with one another and feel like a family, like it  felt with the pioneering classes. The Board strives to facilitate more networking, more involvement with the university, and to build stronger and healthier relationships among members, he pointed out.
Having been founded in October 2011, the Board is challenged to communicate to alumni that they do exist and that they're active.
"We have many events throughout the year," Bali said. "To my friends of the pioneering class, we could use that same spirit in the UCMAA."
The UCMAA is an avenue to continue that tradition, he said. "Although most alumni are connected through Facebook, this organization is our opportunity to stay a family, we're here for you. We can continue our Bobcat traditions."
He also looks forward to building new traditions as the Board and the Association continue to develop.
Not only is Bali the president of the UCMAA Board, but he also opened his own business with branches in Merced and Turlock: The Bali Learning Center. The center employs about 30 UC Merced students and alumni to help more students from the Central Valley go to college.
"It has always been a dream of mine and my father's. He was an engineer, and he always wanted to start a learning center. When I graduated, I had the opportunity, so I went for it. It was a risky situation, but I was young and rather than spending my career thinking 'I should have' or 'how cool it would have been,' my ducks were in a row, I had people supporting me… and it all worked out."
When asked what advice he has for UC Merced future alumni, Bali does not hesitate.
"UC Merced students, do what you want. Do not go the beaten path, enjoy what you do and you'll be successful. Get involved in as many things as possible: clubs, ASUCM, community events and organizations, just get involved! And once you graduate, don't do something just because it pays the bills. If you enjoy what you do, you will be happy."
Student activities: Associated Students of UC Merced; South Asian Student Association; Vanguard Engineering; Martial Arts Club; Radio Merced; and delegate to UC Day Sacramento.
Board committees: Executive Committee president; Transcript Review